The man, the myth, the legend, but most importantly, the only man who can rhyme with the word orange.
Grey has not only educated me on my rhyme game (scorn, corn, horn, btw), but has shared some great messages and pieces of
his story
The countdown has begun! I had the honor of chatting with Grey, one of the most talked about new speakers (and hottest emcee), before DC VegFest 2017 on September 2.
During the DC VegFest Exclusive Media Preview Party last week... which was FABULOUS... I met fantastic folks and learned the history behind the stories of some attending vendors. The event had Vegan Treats and line-up speakers, but something was missing. My inner fandom was pulling at my heart.
Where was Grey?
Grey currently resides in Atlanta, GA and is a newer speaker touring VegFests on the East Coast. His freestyle video, Vegan Thanksgiving, went viral in Autumn 2016 and his voice has reached large audiences across the globe. Luckily, vegn'vibes got an exclusive interview prior to Grey attending the LARGEST VegFest on the East Coast in the Nation's Capitol. 
THE INTERVIEW
Friday, August 25. Sunny & 75.
12:59PM, ring-ring. I couldn't wait another minute.
When he picked up the phone, Grey sounded exactly like his rap voice. Not sure why this took me by surprise, but it did, and I got really excited about it. Grey explained to me that this was not his first VegFest, as he has been touring and has gone to the ones in LA, Nashville, and Charlotte, to name a few.
And so it began...
vv: "What inspired you [Grey] to not only become vegan, but inspire and educate the world through such an artistic vehicle?"
Grey: "Well, it started for me when I heard Bone Thugs-N-Harmony at 10 years old. I kept listening and then began to write my own music a few years later. Whenever I heard  Bone Thugs-N-Harmony, I just knew --  I wanted to be involved with music in that way, a way that changes how people think and help get them through a bad day."
vv: "How have you seen your choice to become vegan impact your friends and family?"
Grey:"Definitely. Two of my cousins have changed, my brother and sister tried it for a week, and my mother has opened up and learned some of the benefits of this diet -- although it has been a big challenge. A lot of people get stuck in their ways on what they know, but if they just try it, even for a week, then they could see the change in the way they feel and understand how diet change can help with health issues.
And let me tell you, Kip Andersen has a big problem on his hands. Ever since the What the Health documentary released, he has been making a huge change in the way people think. He directed and produced it and the food industry is going to go crazy if it continues [chuckles]."
vv: "What is vegan to you -- in terms of what is the most important or most transformative lesson or takeaway you have had since the transition?"
Grey: "When I switched, I dropped 20 pounds within 2 months. That's crazy. I used to be a football player and even at tip-top shape, I wasn't where I am now. I could see it on my medical scans, it used to come back as red and orange, but after 2-3 weeks of being vegan, it was all green!" 
vv: "The best question for us --what is your favorite dish"
Grey: "I like to make rice, beans, and peas, and then sauté spinach, onion, peppers, and garlic into a large skillet. It is so cheap and good. Anyone can do it."
Grey's Journey
Grey's love for music began at 10 years old. He had no idea he would become a vegan. A year and a half ago, Chef Nakia introduced him to the diet. He had felt such a difference that he kept up with it and it engulfed his life in the best way.
Before long, Grey kept doing what he always has done -- freestyle rap in his car. Because he always raps about the familiar occurrences in his life, and things that are important to him, he started rapping about veganism. When he discovered the Greens, Beans, Potatoes, Tomatoes Grandma video, he was extremely captivated... and also thought it was hysterical. He felt like he had to rap with it and share it, so he did.
Because of it all, he has done exactly what he has always set to do since 10 years old. He has delivered an important message that has made people think differently and feel good.
His message about veganism has literally changed lives. 
Grey wants people to know
He [and Nakia] started a group on Facebook called Plant Based Transition and it is getting a great response since it started about 2 - 3 weeks ago. It is a non-judgmental space for people to join the group and share recipes and ideas. It is easier than you think!
And also, rock Plant Based Drippin. There are so many messages that come with veganism -- why not wear it? As CEO, he does.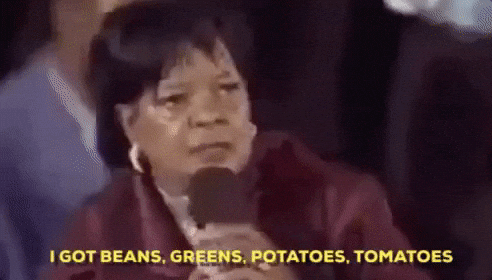 xoxo, k
Please reload